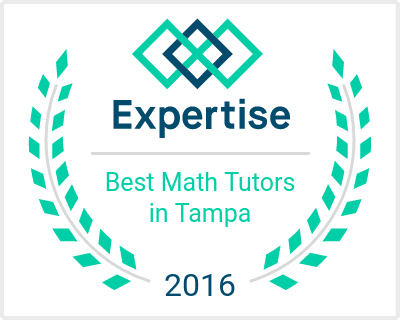 I took Amy's class over the summer and it helped me tons. I have been let down at school time and time again with my FCAT and ACT scores. Failing three times on my FCAT before even stepping foot into Amy's class. Once I started taking her class, she taught me how to understand everything a lot better and this fall it came out that I finally passed my FCAT thanks to Amy! I am still currently taking her class for ACT and growing in my skills every time I come. She does an amazing job helping understand problems and writing essays!!!!!!
Sarah
,
Riverview
Amy Tutors is great! With the little time I had to prepare for my Act (almost a month), I went from an 11 in my reading to a passing score of a 19. I am truly greatful for what Amy has done for me.
Giselle Anderson
,
Tampa
My daughter had been struggling with math since the first grade. She entered second grade and the struggle became worse. That is, until we found Amy! After a month of tutoring with Amy, my daughter's math grade on her next report card went from below level (which it had been for the first two grading periods), to on level, for the first time this year! I cannot thank Amy, A.J., Madison and the entire team enough! They have been a blessing and because of them and the wonderful way they tutor, it looks like my daughter will now pass the second grade. : ) Thank you Amy Tutors!!!
Lauana
,
Tampa
I found Amy about 3 weeks into my Intermediate Algebra class. At that time I was miserably failing the class. I made the mistake of taking the class in the summer, which is a 10 week class vs. a 16 week class. Not a smart choice since I never even graduated High School. I didn't think I would ever catch up let alone pass the class. During the 7 weeks Amy took the time to make sure I understood the material. With her help and guidance I managed to pass the class and now I'm that much closer to earning my college degree. I couldn't have done it without Amy. Thanks Amy!
Abbe
,
Tampa, FL
Amy is a very good. She brought my algebra grade up from 45 to a 90.
Tanner L
,
Riverview
Amy helped me with calculus and it was a breeze with her. She knows her math very well as if it is second nature to her. Passed my class with an amazing grade. Without her I would have had to struggle and barely have passed if that. She is flexible with her schedule which is amazing for when you need an extra class or two for review. Amy is easy to talk to and very kind hearted. I highly recommend her to anyone who needs help in the math department.

Thanks again for everything Amy!!

P.S. ~ passed my final with flying colors!!!
Chris Demoura
,
Tampa
I relied on Amy to help me increase my GRE Quantitative score this past October. With the help of a thoughtfully designed study plan and one-on-one tutoring, Amy not only strengthen my math skill-set, but taught me all the strategies I needed to confidently answer each question that came my way on test day. Her guidance kept me calm, cool, and collected under the intense testing conditions.

Amy is an exceptional tutor. Her excellence not only lies in her well-rounded knowledge foundation, but also her dedication to her students. Amy made sure I was ready for the day of the test with only 4 weeks time to prepare (not generally recommended, as a rule). This challenge did not set us back.

The result of our hard work paid off, with a 5 point increase on my GRE. Amy, you are the cat's pajamas.
Blaire
,
Tampa
Such an amazing tutor! Really helped me on my TEAS test, not only with the material but on my confidence as well! Highly recommend!
Alicia
,
Tampa
My daughter has always struggled with Reading Comprehension and English. She has been to other tutors and reading programs in the past who made many promises but did not deliver. Then we found Amy!
Within one grading period Amy helped my daughter's English grade improve from an F to a B! My daughter now has so much confidence in herself and has rediscovered her desire to read. I am so proud of my daughter and so very thankful to have found Amy! We cannot thank Amy enough!
KB
,
Tampa
My biology tutor Parin brought my grade up two letters!!!!!!! Now its an A
Tanner
,
Riverview
I found Amy Tutors through a google search three weeks before the first quarter ended. I had a D in Pre-Calculus, and with Mrs. Amy's help I raised my grade to a C before the first quarter ended. I was able to achieve an A for the rest of the school year, including the final exams. My high school Pre-Calculus teacher made everything extremely complicated, but Amy made it easier for me to understand. DONT WAIT until you failing to get Mrs. Amy's help.
Thank You Mrs. Amy!!!!!
Kiana
,
Tampa FL
If you are looking to see results and significant improvement in your child's learning and success in school then Amy Tutors is the place to be. The exceptional staff is professional and works very hard to help your child excel. My son went from a level 2 to a level 4 in his reading and is now on track to move to a new level. Thanks Amy Tutors for your help.

Grateful parent Karla C. Moore
Karla Moore
,
Tampa, FL
Amy helped me prepare for the GRE. She did such a great job helping me achieve my goals!
Ashley
,
New port Richey
"Five Stars!! My initial thoughts were a little biased on the effectiveness of having a personal tutor so late in the school semester, but Amy has been very effective in teaching me to understand Algebra better. She is extremely patient, and very personable in her approach, (she also responds to messages in a timely manner). I intend to work with her in an upcoming statistics class, and I would personally recommend her to other students that struggle with Math in general!!"
- Mercy
,
Tampa, FL
AMY IS AMAZING! I THANK GOD FOR GIVING ME GUIDANCE TO MEET HER. AMY WORKS HARD FOR HER STUDENTS. SHE HAS COMPASSION FOR HER STUDENTS. THANKS TO AMY BELIEVING IN ME, IM ON TO A NEW CHAPTER IN MY LIFE!
Kennyatta Wright
,
Tampa FL
I needed to increase my PERT score, and Amy's one-on-one tutoring helped me score even higher than I needed! She is a fantastic math tutor, very patient and understanding. I was blessed to find you, Amy. Thanks so much!
Emma
,
Tampa area
Amy has made a difference in my child's learning. My son has only been going for two months and has improved a letter grade in his two classes. Thanks Amy Tutors of Tampa. I highly recommend her for all ages.
Tammy
,
Carrollwood
Amy helped me with the PERT college placement test, intermediate and college level algebra as well as mathematics for liberal arts. I can honestly say that without her help, I would have failed all of these. She truly has a gift for what she does. Having been to numerous other tutors, I can attest to the fact that there is something special in the way she helps her students.
Ryan
,
Land o lakes
Recently, I've become a regular student at Amy Tutors. Almost every thursday before the next day's test, she tutors me in Geometry and not only has my grade gone up in the class tremendously, but thanks to her, I passed my final in Geometry and for the first time in my life, I called a math exam "easy". I could relate to virtually every problem because of the way she explains things. She has made Geometry a more exciting than strenuous process for me and because of her I will continue to thrive, not just Geometry, but in more math classes to come. She's absolutely amazing and I couldn't ask for a better tutor!
Tajiana
,
Brandon, FL
When I started with Amy I was quickly falling behind in my math class. I was not a very good student and was ready to give up. Amy would not let me drop the class. She worked and worked with me taking time out of her own life to help me pass the class. I did pass the class thanks to Amy not giving up on me. Thank you Amy for not only being a great tutor but for actually caring for my future and teaching me some lessons about life and people.
Aaron
,
Tampa
"I couldn't thank you enough for all you have done for me! I would have never been able to get through this semester without your tips and helpful tools, let alone get a B! Good luck on all the things you do! I will for sure be calling you when I need some help with AP Stat!"
- Rachel
,
Carrollwood, FL
Ms Amy has been such a wonderful tutor for my son. She helped him improve so much in Math. He has gained confidence in himself and his grades have gone from practically failing to a B. I would highly recommend Ms Amy.
Toni Nieves
,
Tampa
I have to say after many tutors my daughter has had through her years, Amy has exceeded her abilities that I could have never imagined! She helped my daughter pass her G.E.D. and now she is helping my daughter in her college studies and she is getting 3.5 -4.0. She is patient and understanding of my daughters needs. Thank you so much Amy. Great Job!!!!
Edward
,
Tampa
"Great Tutor! My daughter is very excited and comfortable to be working with Amy she said she has alot of patience and she really makes learning fun. We feel blessed to have found her. Amy replies quickly when contacted via email and text which is wonderful. Thank you so much!"
- Dora
,
Tampa, FL